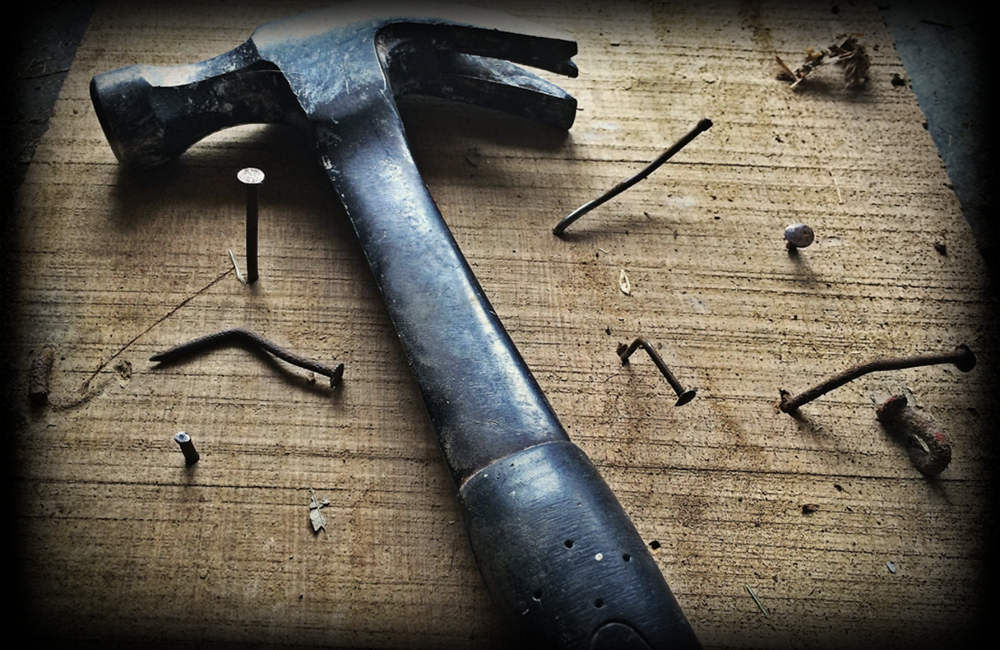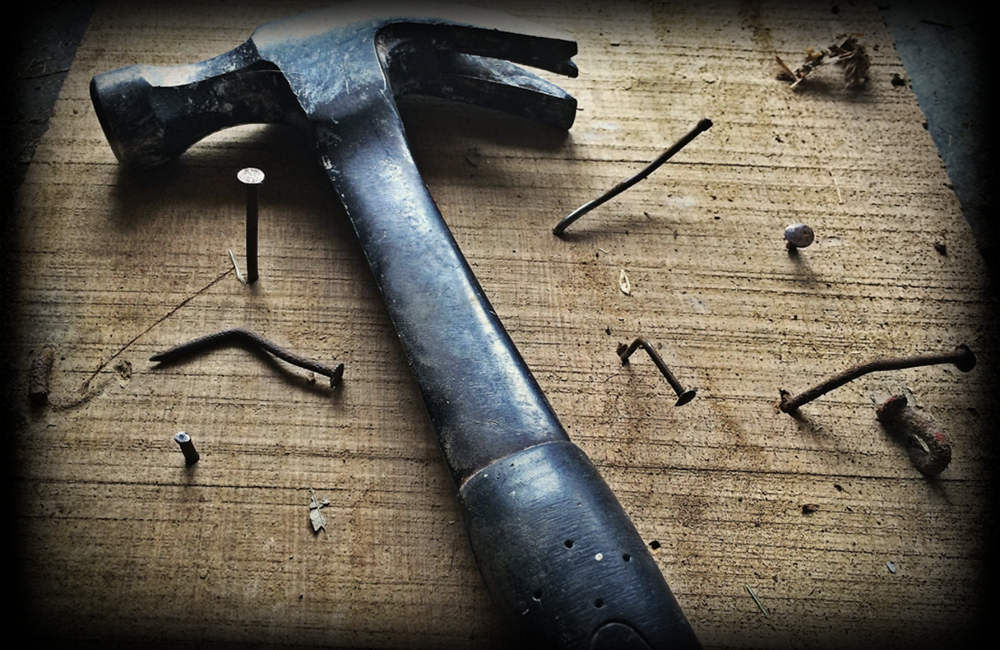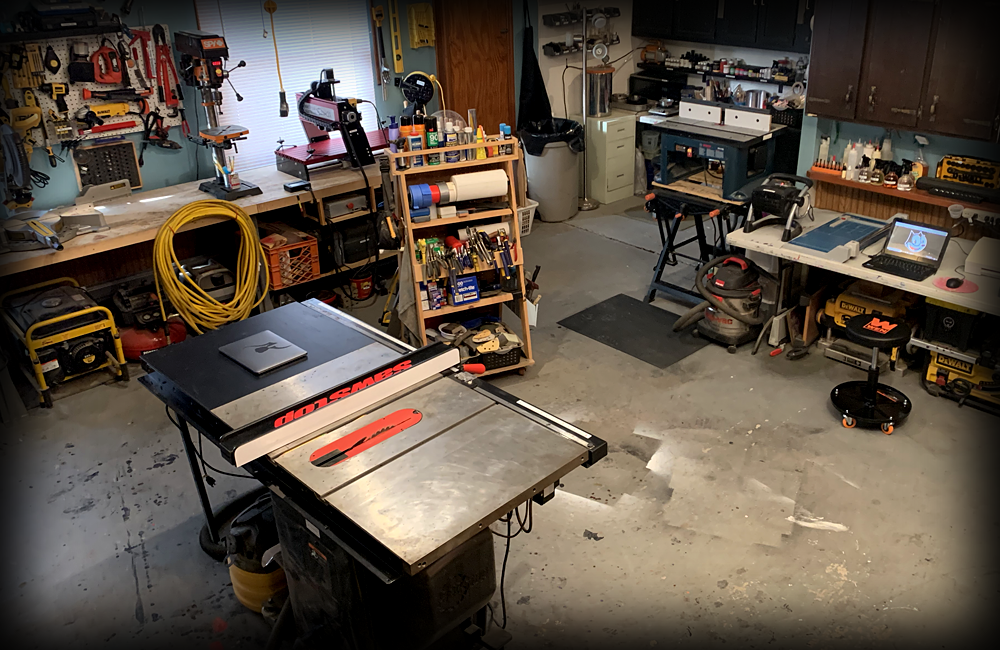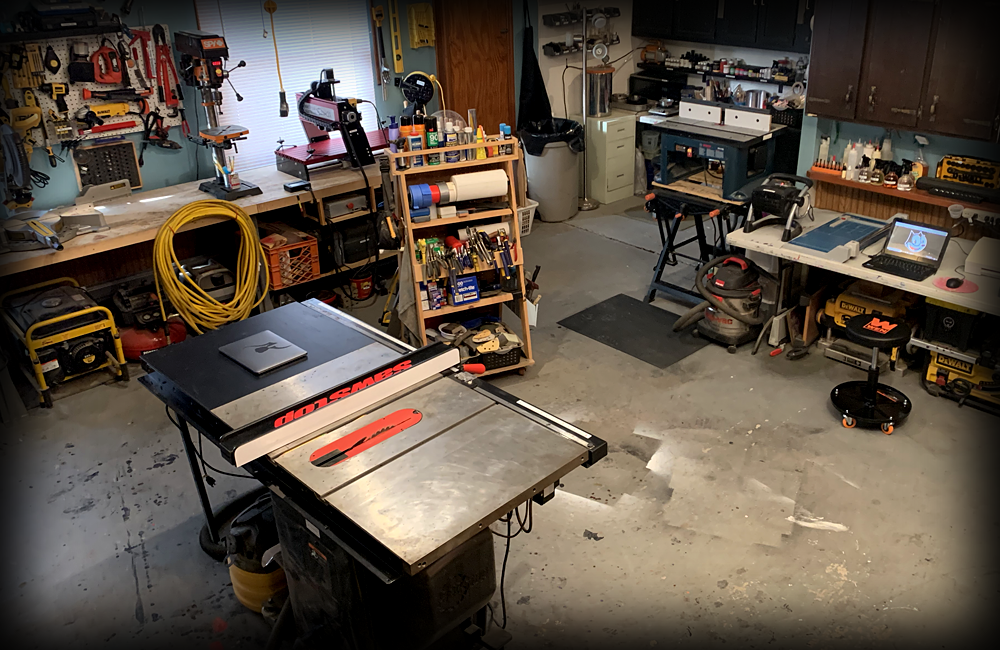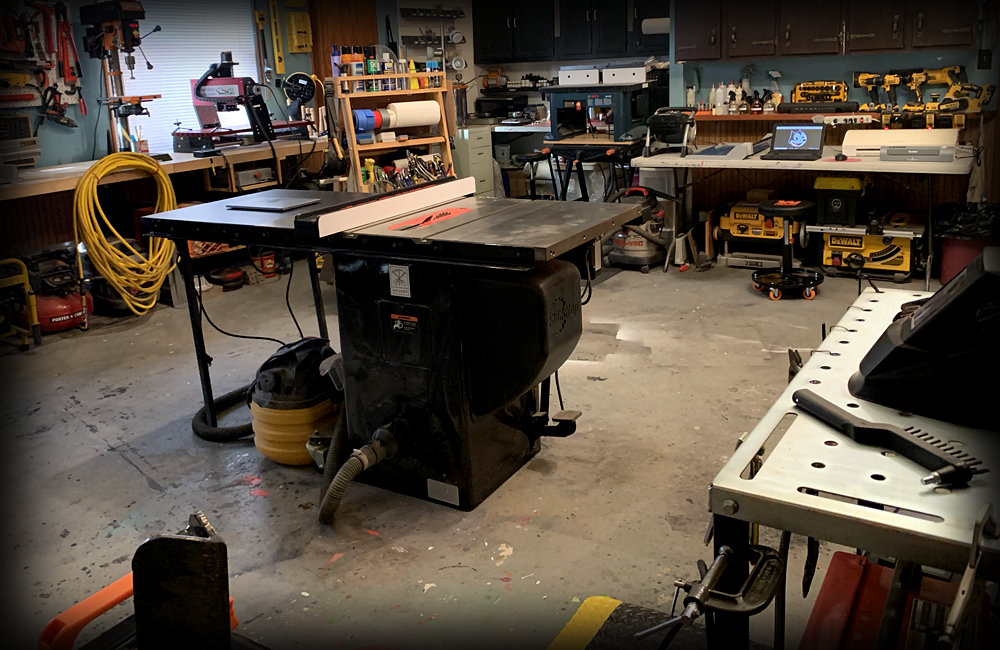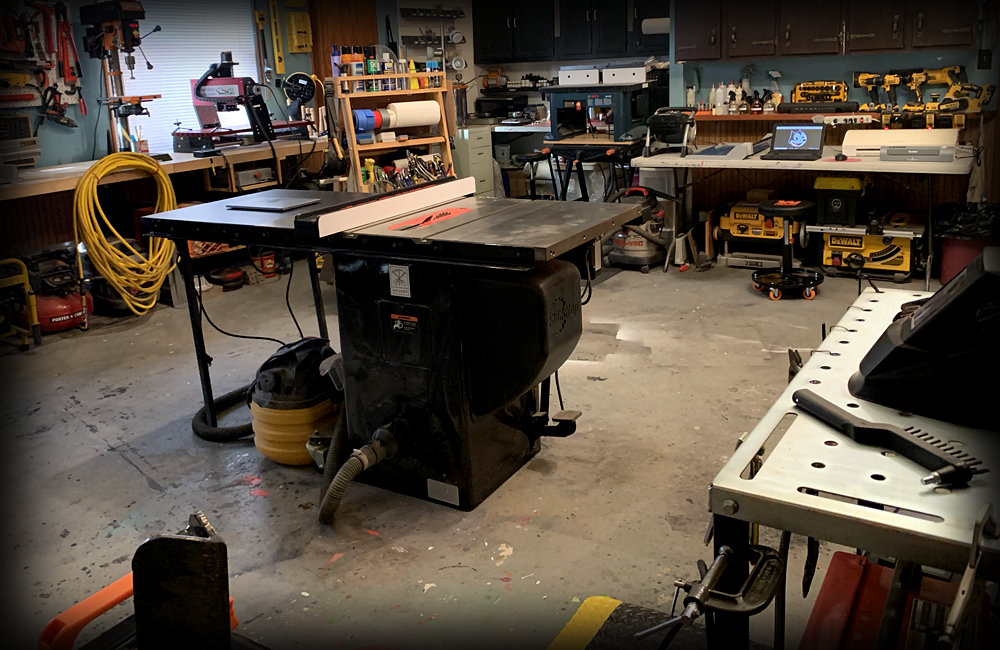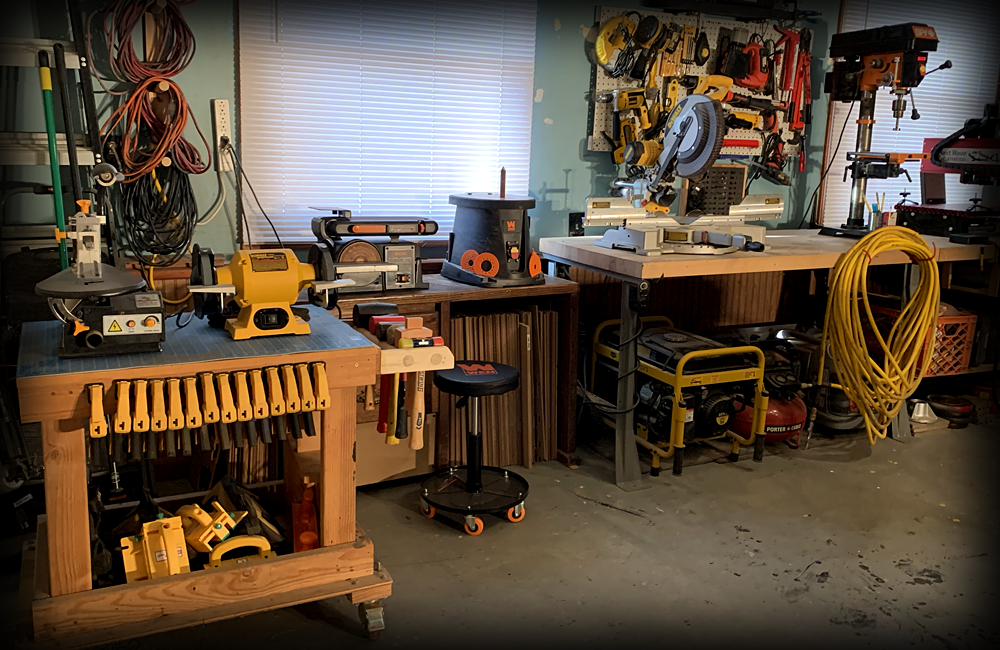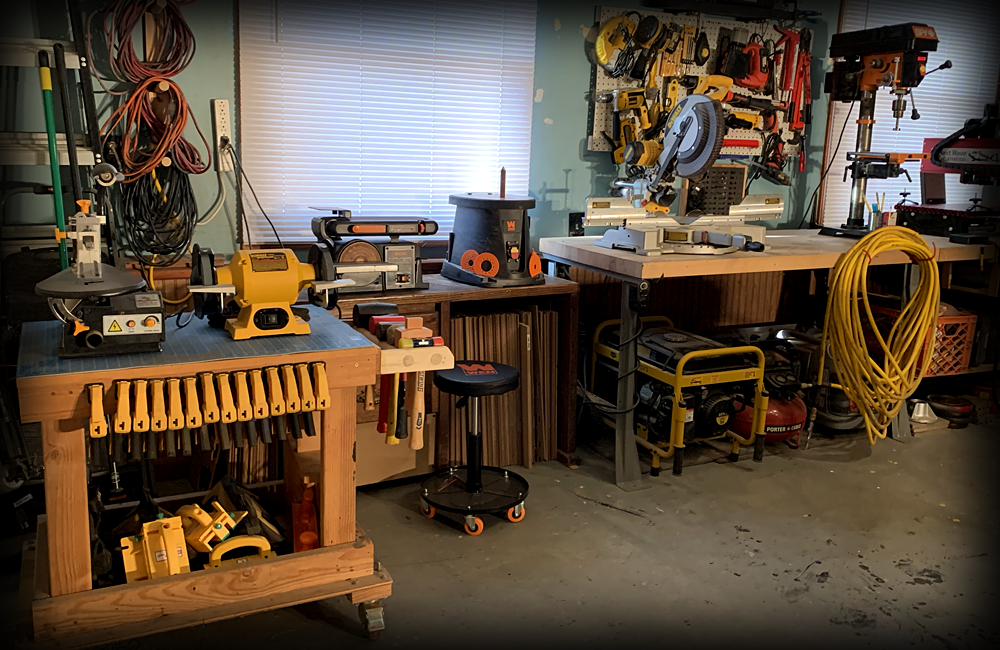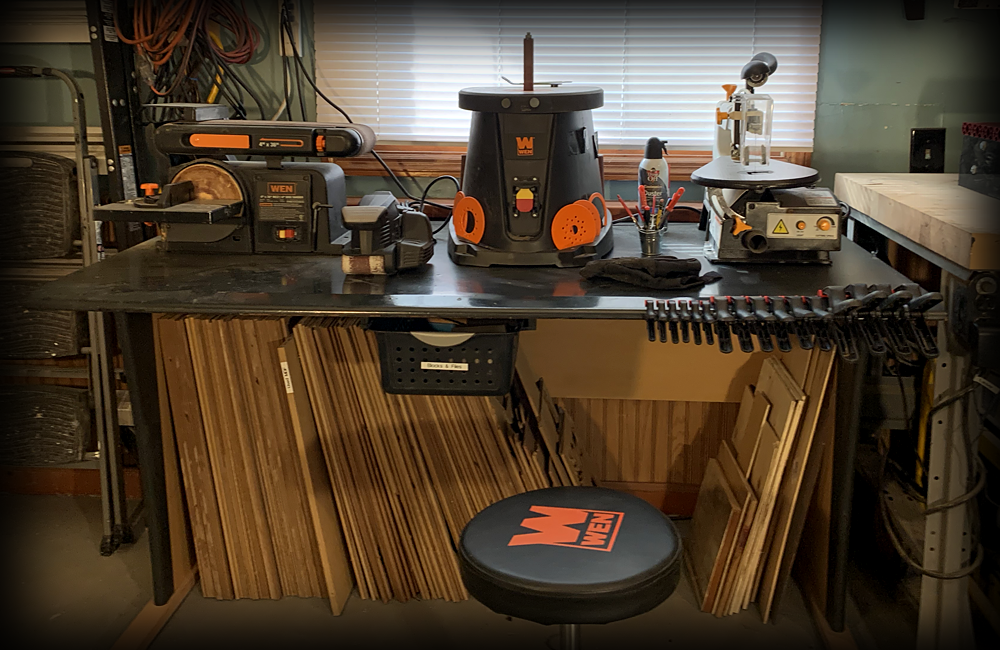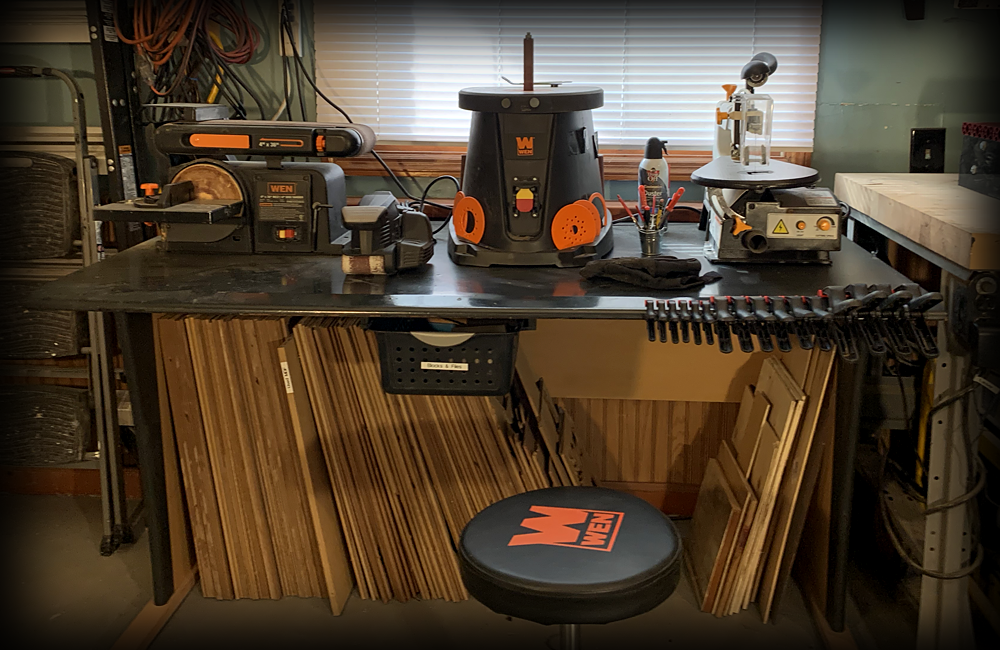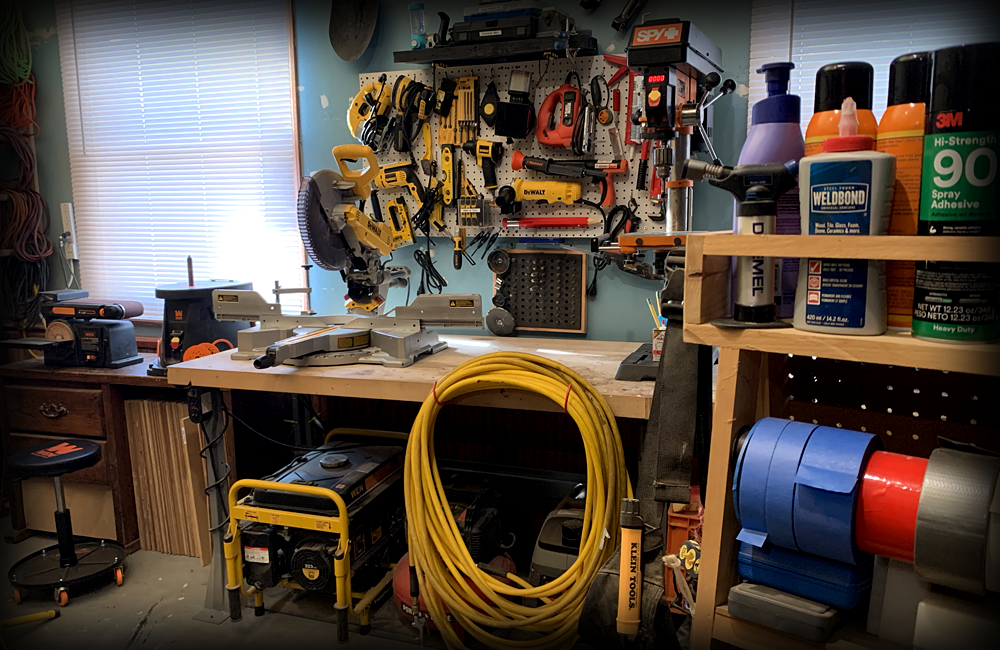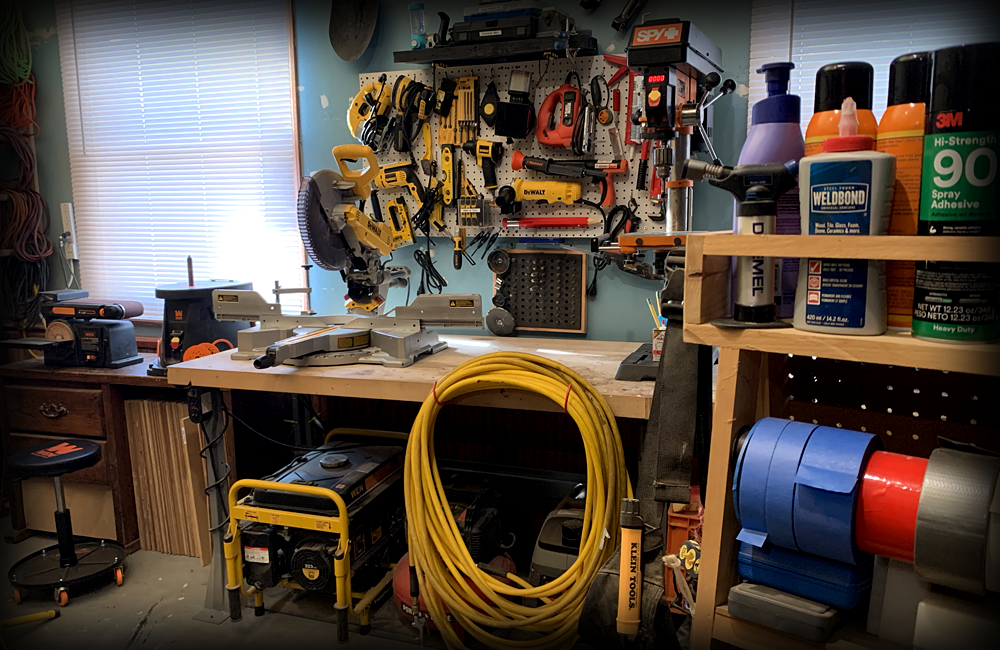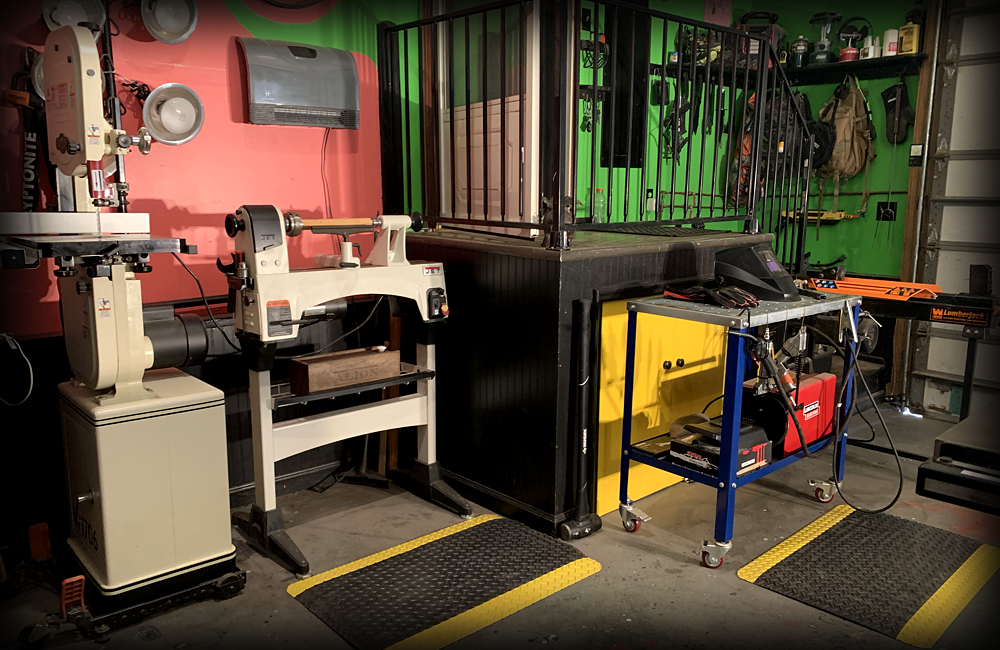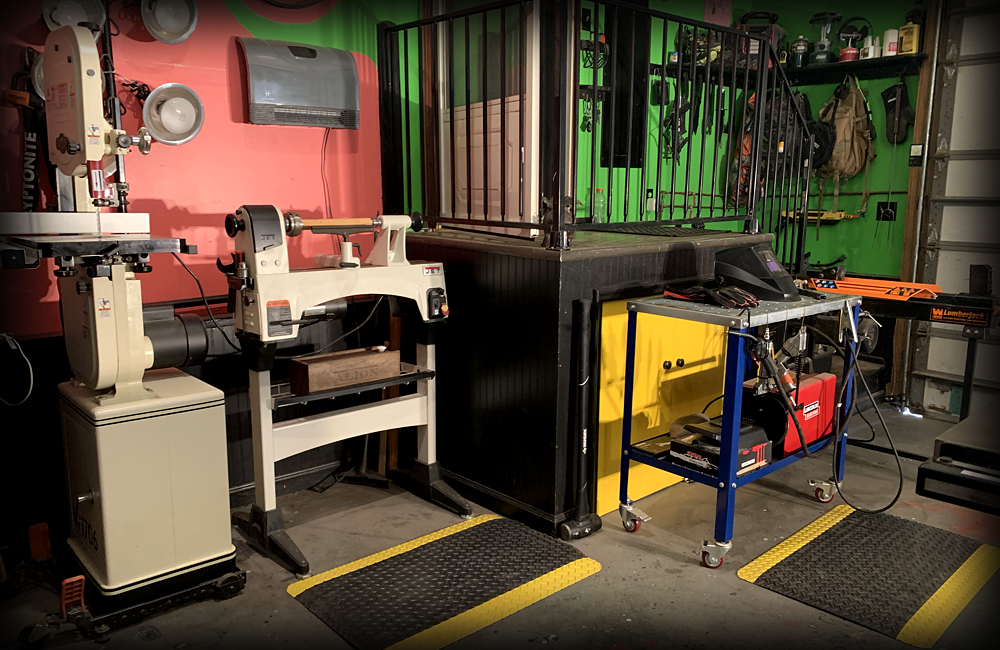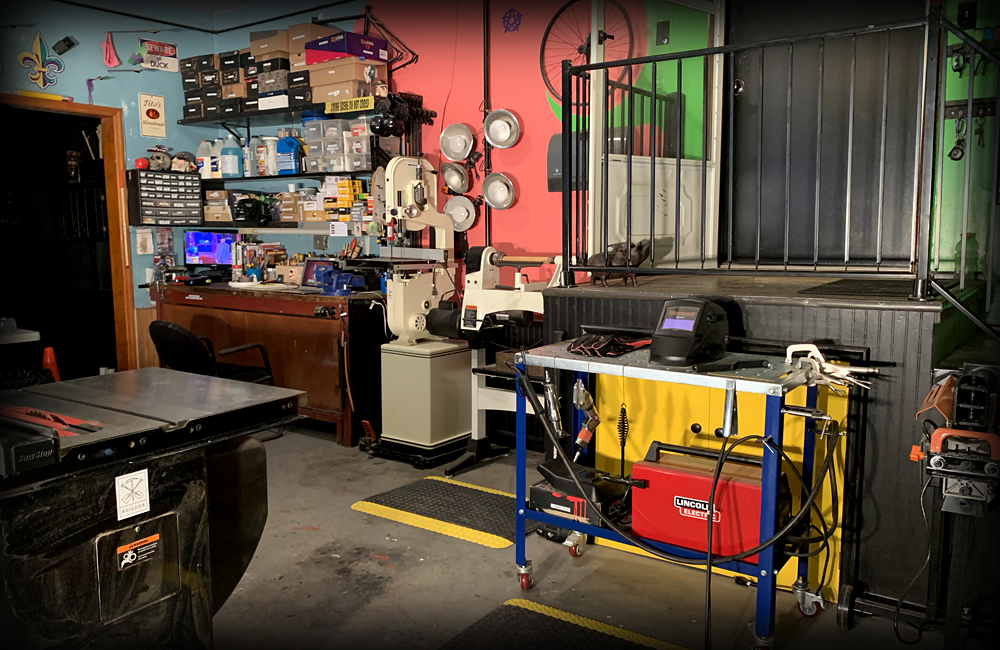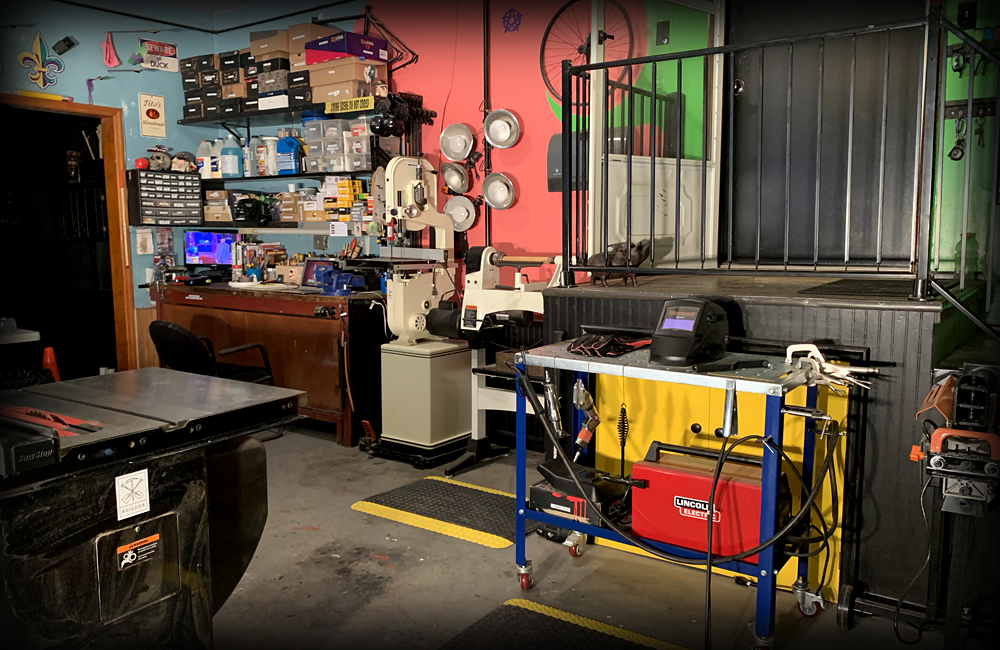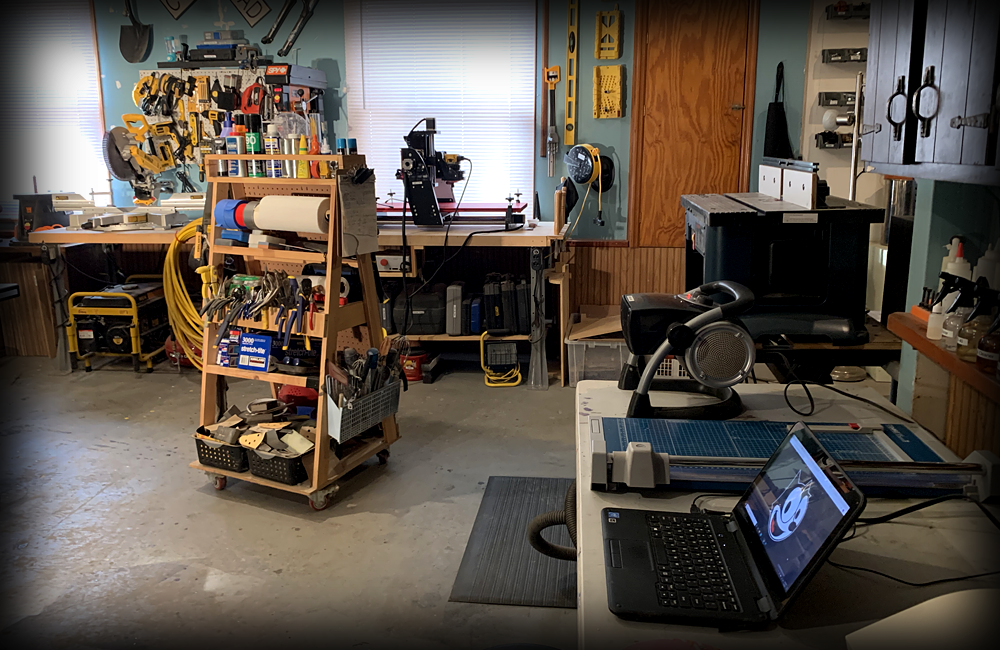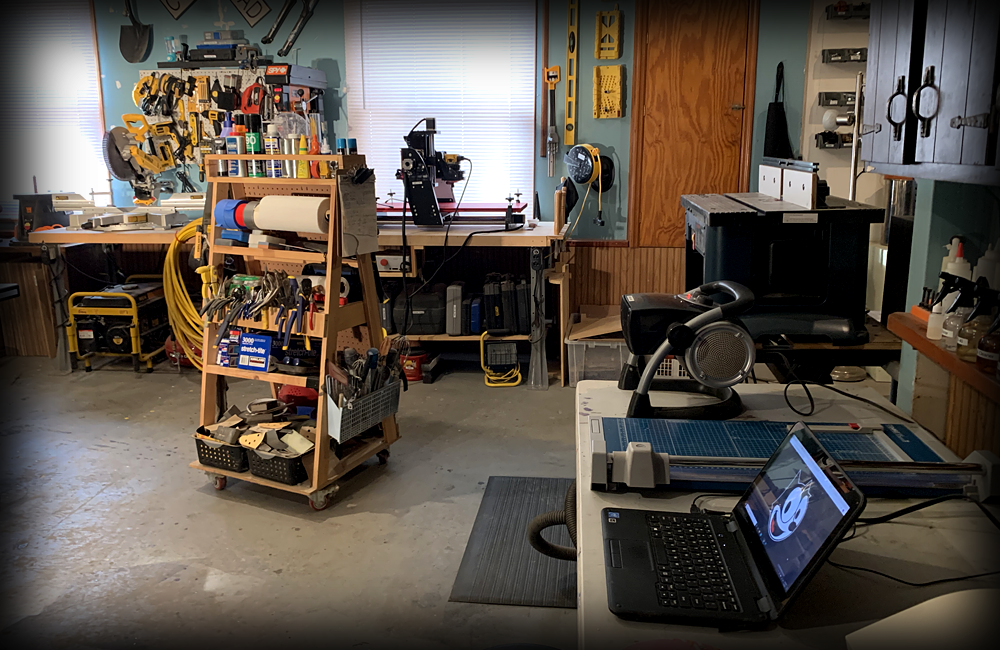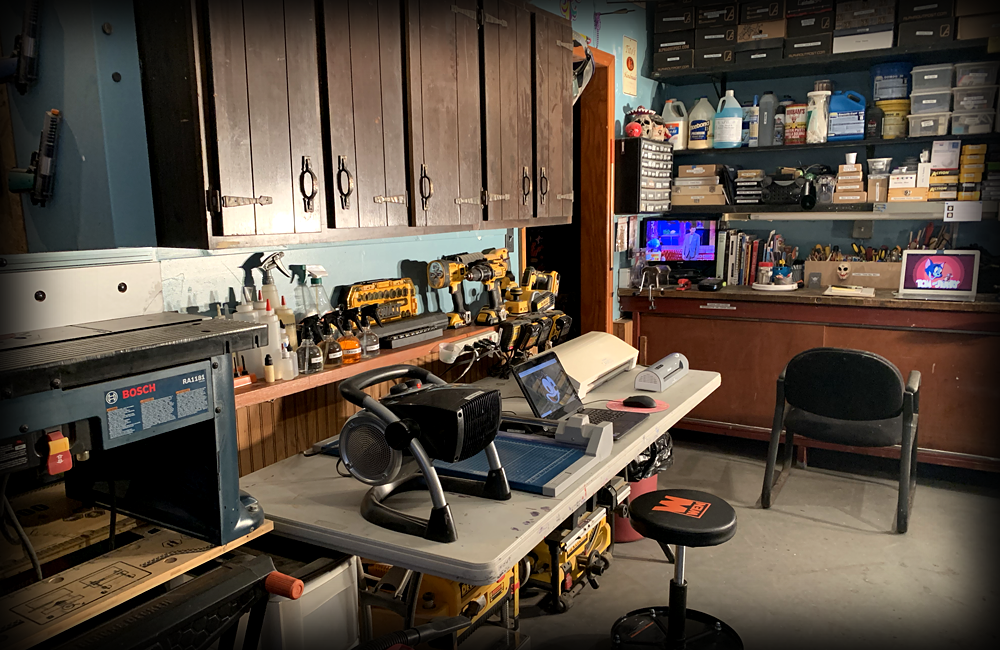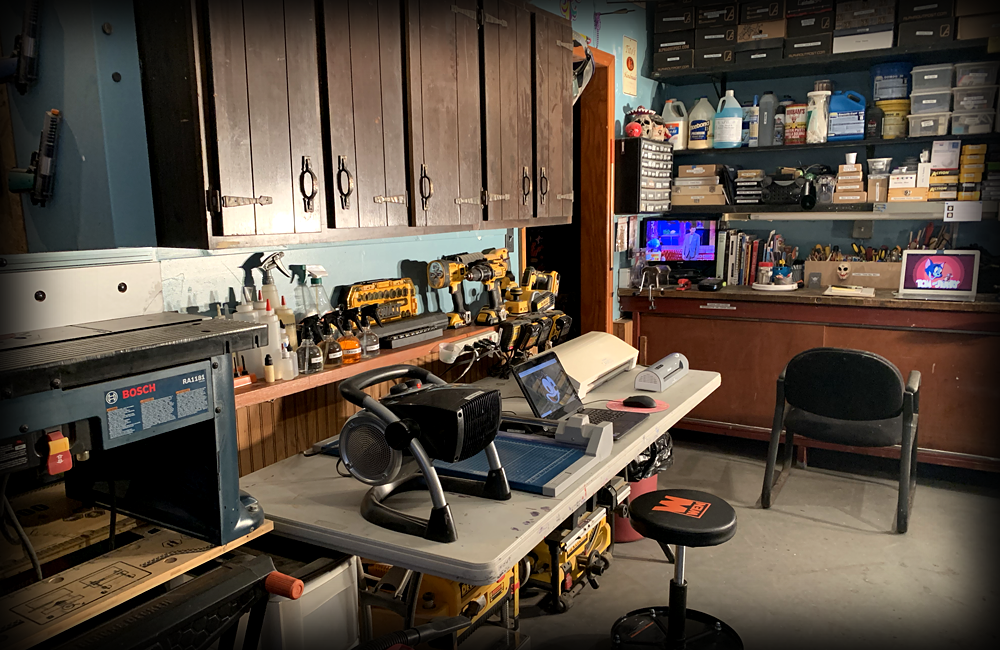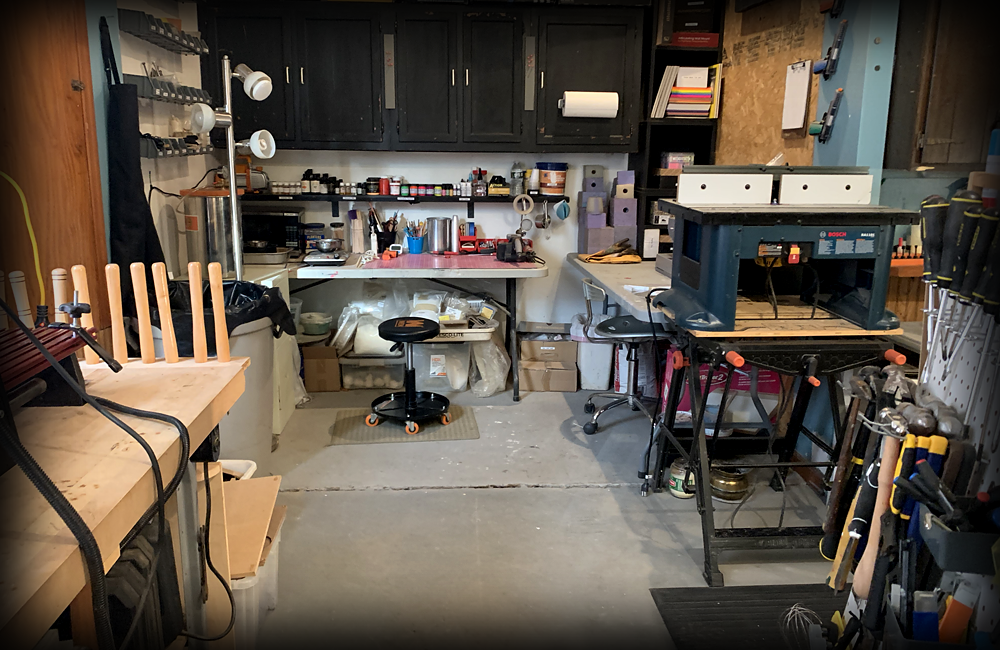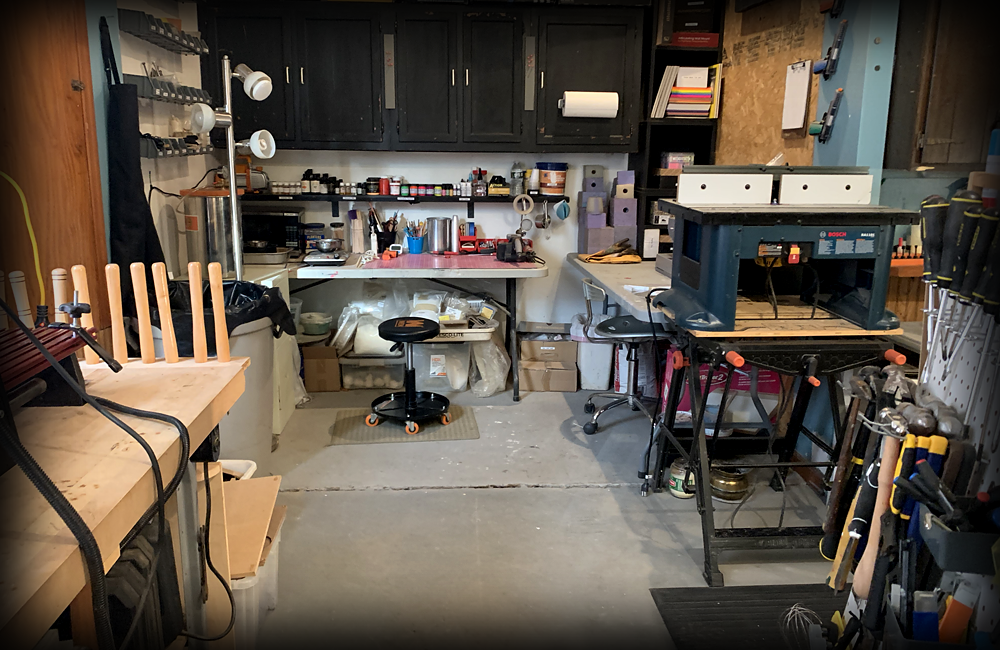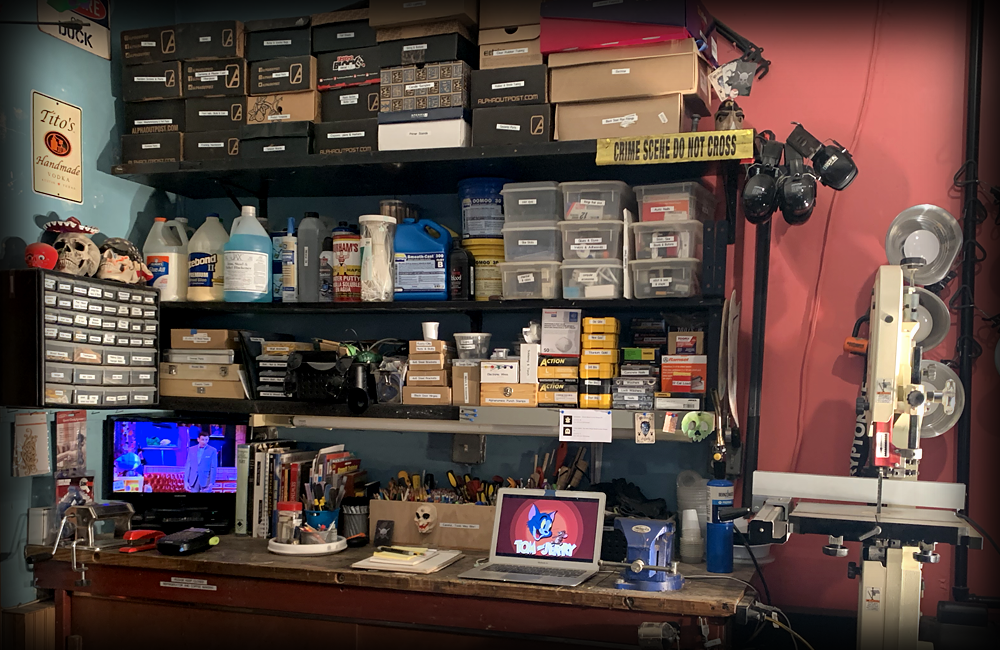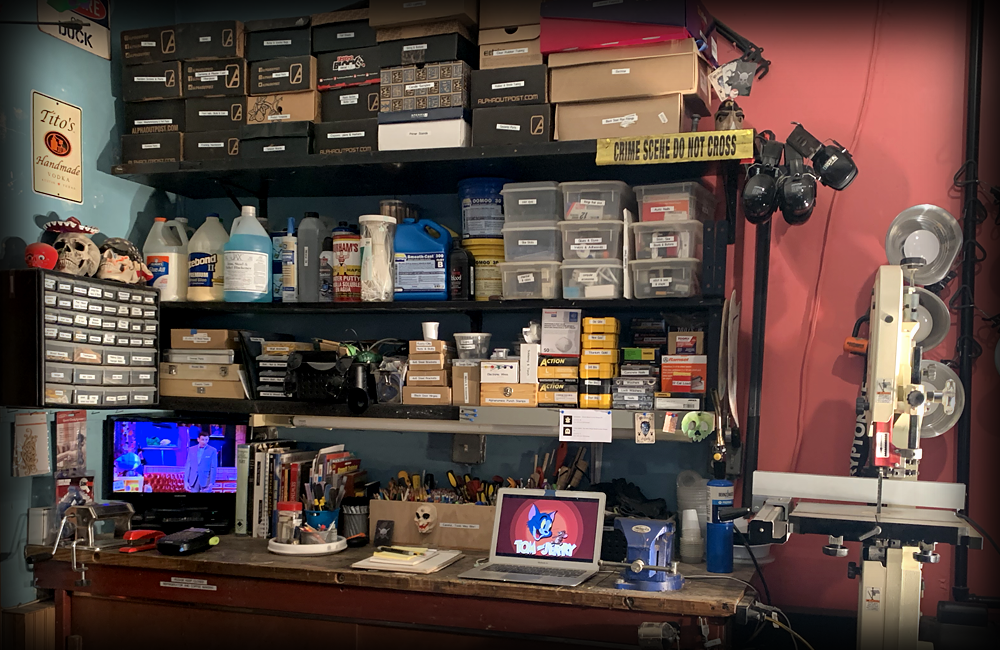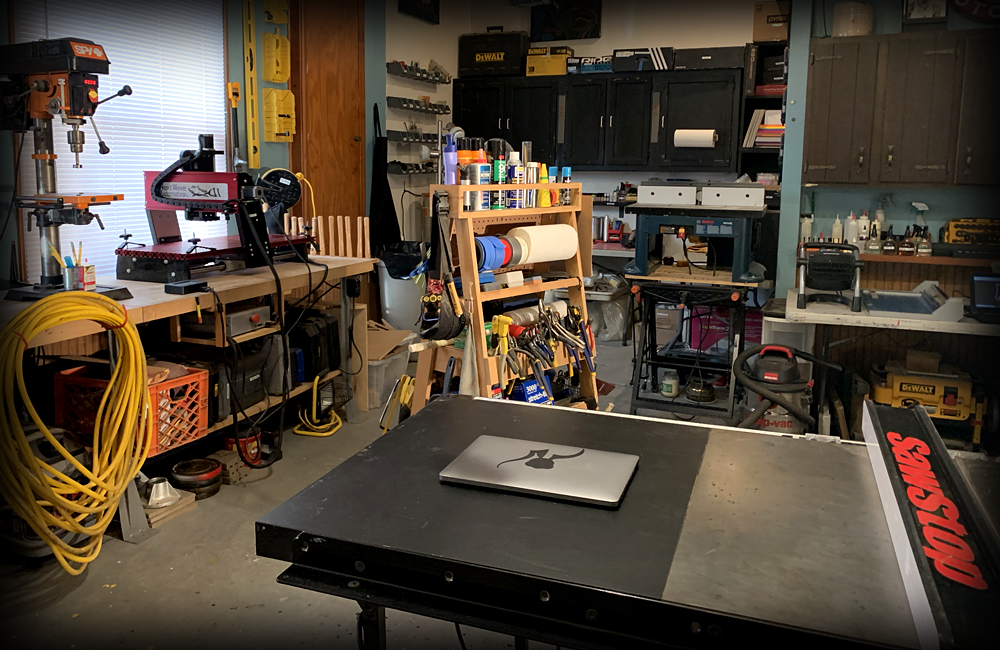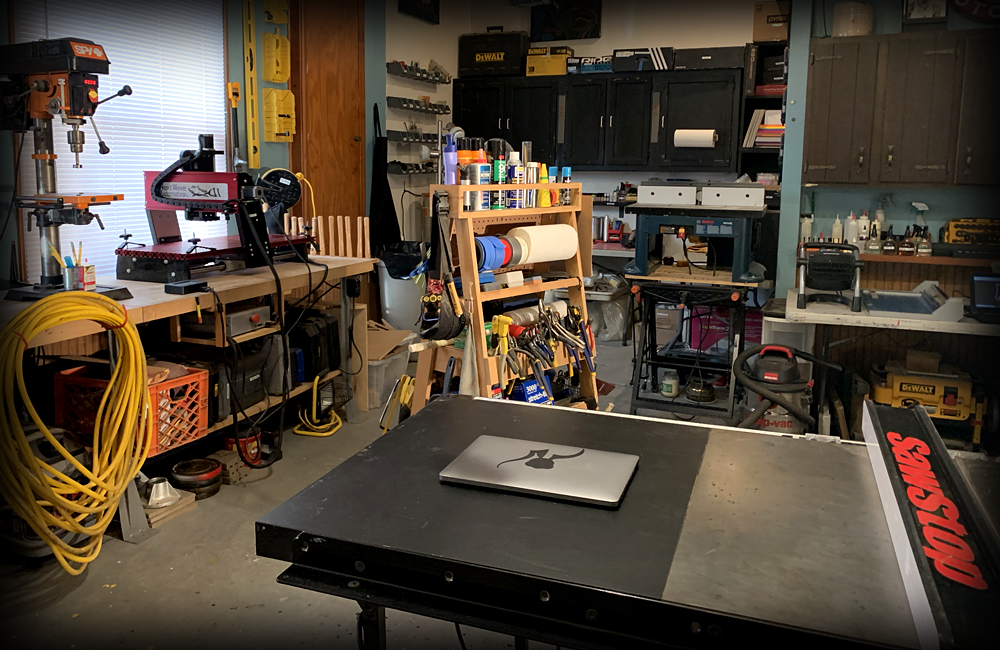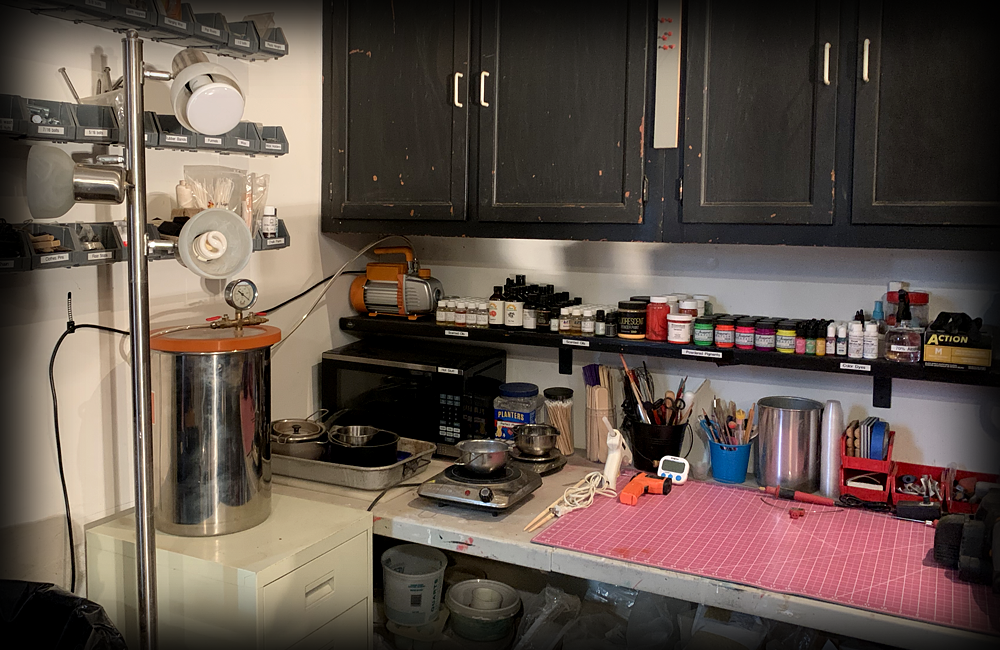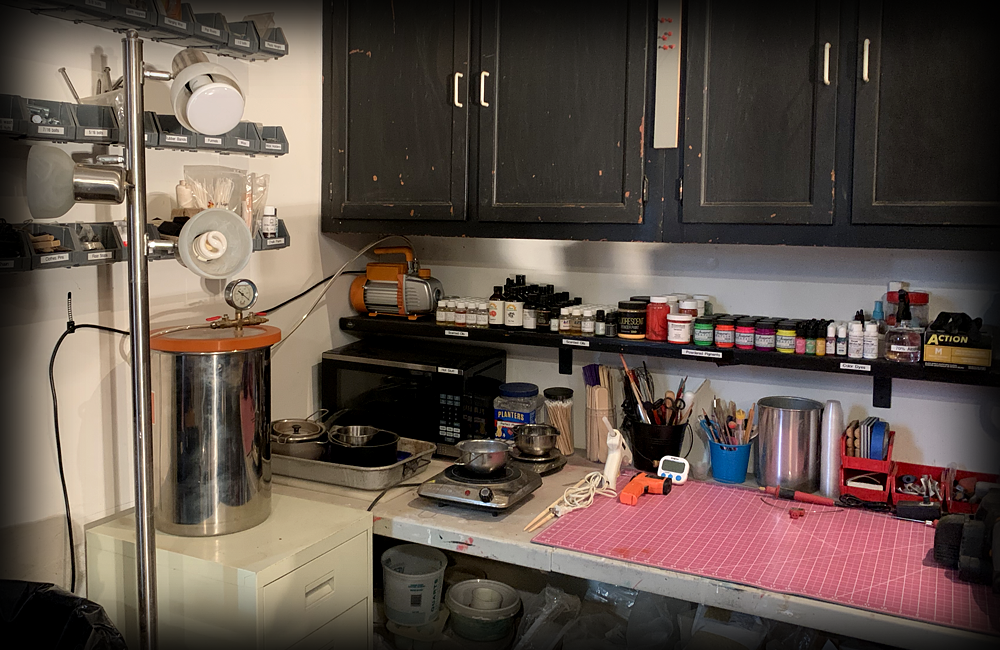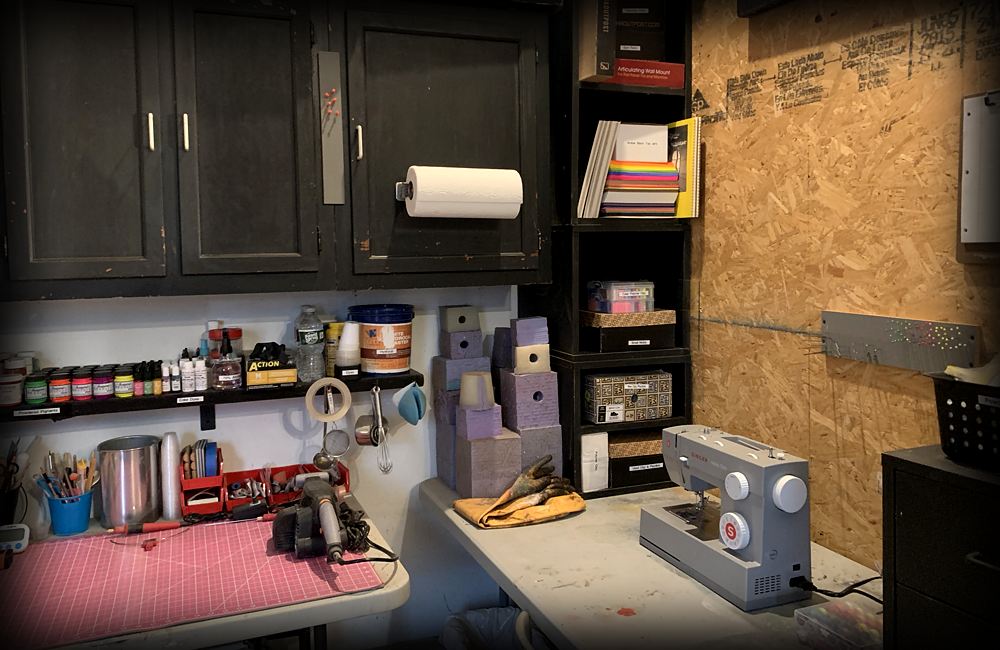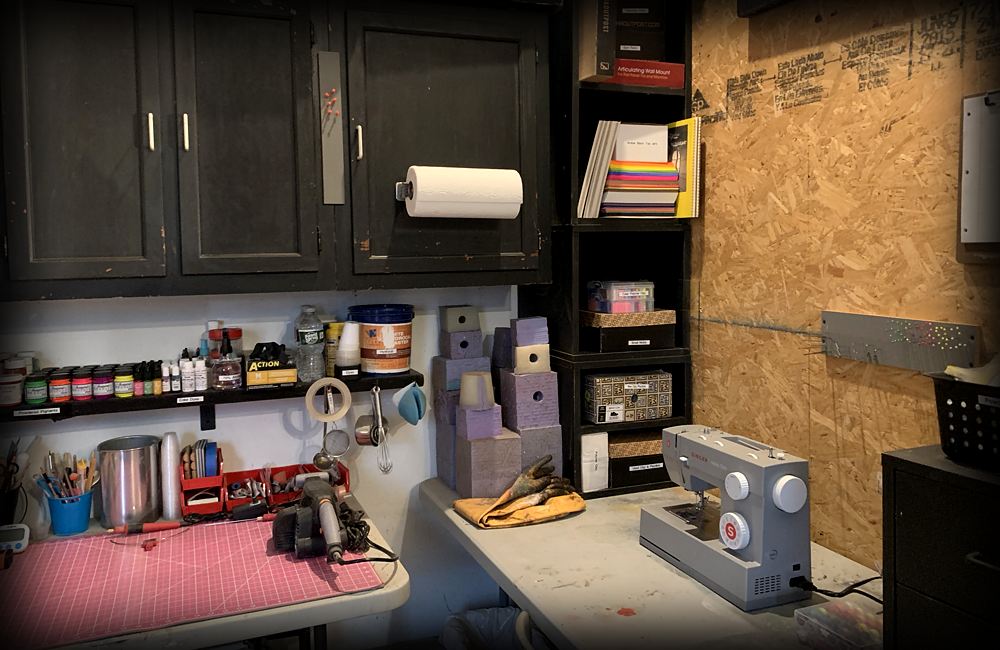 Our workshop is considered (by us) to be the white whale, the bell of the ball not to mention the end of the rainbow. Maybe we're biased but when we stroll through this builder's utopia, there's not an idea or project that cannot be accomplished. It features an endless amount of machines, power tools, hand tools and materials that no mortal person has acquired over a lifetime (well, maybe some people).
Our Machines
Sawstop Professional Table Saw / 36″
New Wave Automation CNC Shark / 16 x 24″
Dewalt Compound Miter Saw
Jet Variable Speed Wood Lathe / 12 x 21″
Shop Fox Band Saw / 14″
Shop Fox Variable Speed Scroll Saw / 16″
Belt Sander / 4 x 30″
Disc Sander / 6″
Oscillating Spindle Sander
Air Compressors
Dewalt Thickness Planer / 13″
Dewalt Compact Table Saw / 8.25″
Lincoln Electric MIG Welder
Dewalt Bench Grinder / 6″
Electric Log Splitter / 6.5″
Variable Speed Drill Press / 12″
Dewalt Table Top Router
Dewalt Fixed And Plunge Router
Bosch Benchtop Router Table
Generators
Sewing Machines
Vacuum Chamber
If there's a machine you require, we may be able to acquire it by either purchase or rental*.
Our Power Tools
Dewalt Orbital Sander
Dewalt Electric Planer
Dewalt Hammer Drill
Dewalt Angle Grinder / 4.5″
Dewalt Reciprocating Saw
Dewalt Jigsaw
Dewalt Cordless Drills
Metal Shears
Metal Nibbler
Ryobi Circular Saw
Dremel Rotary Tools
Pneumatic Nail Guns
Black & Decker Jigsaw
Black & Decker Sander
If there's a power tool you require, we may be able to acquire it by either purchase or rental*.
Our Hand Tools
Claw Hammers
Ball-Peen Hammers
Sledge Hammers
Tack Hammer
Rip Hammer
Dead Blow Hammers
Chasing Hammer
Welding Hammer
Stubby Hammer
Soft/Hard Face Hammer
Chipping Hammer
Rubber Mallets
Joiner's Mallet
Powder Actuated Nail Guns (Must be 18 years old)
Hand Saws
Flush Cut Saws
Miter Saws
Coping Saw
Hack Saw
Keyhole/Jab Saw
Exacto Mini Saw
Bow Saw
Pump Pliers
Slip Joint Pliers
Long/Needle Nose Pliers
Locking Pliers
Flush Cut Pliers
Bent Nose Pliers
Round Nose Pliers
Nylon Jaw Pliers
Diagonal Cut Nose Pliers
Flat Nose Pliers
Cutting Pliers
Wire Looping Pliers
Linesman's Pliers
Canvas Pliers
Nail Puller Pliers
Welding Pliers
Diagonal Cutting Pliers
J-Clip Pliers
Wire Strippers
Crimping Tools
Cable & Housing Cutter
Tin Snips
Pipe Wrench
Torque Wrench
Hex Key/Allen Wrenches
Socket Wrenches
Star-Head Key/Torx Key
Strap Wrenches
Combination Wrenches
Adjustable/Crescent Wrenches
Air Ratchet Wrench
Rulers, levels, calipers and templates
Heat Guns
Hot Glue Guns
Staple Guns
Foam Hot Knife
Hot Wire Cutter
Button Making Machines
Rotary Paper Trimmers
Guillotine Paper Trimmer
Exacto Knives
Automatic Vinyl Sticker Cutter
Vinyl Tile Cutter
Propane Torches
Light Box
Bolt Cutters
Axes
Clamps
Vice
Sandpaper
Chalk Reel
Files, rasps and chisels
Soldering Guns
Rivet Gun
Hole Punches
Halogen and work lamps
Endless extension cords
Bench Top Vice
RMS Multimeter
Electricity Tester Pens
Hot Plates
If there's a hand tool you require, we may be able to acquire it by either purchase or rental*.
Our Materials
Glues: Wood, white, ca (superglue, cyanoacrylate adhesive), sticks, e6000, spray adhesive, rubber cement, Weldbond®, Gorilla Grip, epoxy, plastic cement, J-B Weld, hot glue guns, mod podge, pressure sensitive, Shoo Goo rubber and fabric.
Tapes: Masking, drafting, duct, packing, electrical, Scotch™, drywall, double sided.
Molding & Casting: Clay, plasticine, silicone mold making rubber, liquid plastic compounds (resin), hydrocal, plaster, Durham's Water Putty and wax.
Paints: Acrylic, oil, latex, spray, fabric, stain, chalk and several mediums.
Hardware: Screws, nails, nuts, bolts, lag bolts, washers, staples, clips, ties, rivets, staple, ties, buttons, steel wire and brads.
Fibers: Wood (assorted), dowels, MDF (medium density fiberboard), logs, paper, construction paper, fabrics, string, yarn, paperboard, sandpaper, beads, thread, mylar, pads, felt and foam (rigid, memory & furniture).
Dyes: Liquid, fabric, pigments, enzyme, powder, soap, block, Jax and resin.
Liquids: Alcohol, acetone, ammonia, scented oils, WD-40, grease, lubricants, mold release, hardeners, conditioners and vampire blood.
Electrical: Wiring, plugs, motors, LEDs, switches, shrink tubing and lightbulbs.
We also offer and enormous collection of pencils, colored pencils, brushes, sculpting tools, markers, pens, scissors, shears, knives, scrapers, blades, charcoals, sewing needles and anything else you can imagine.
*Additional costs may apply.